The 2014 Wedluxe Show this past Sunday January 5th at the Fairmont Royal York Hotel was a huge success! I've attended the show every year since it debuted in 2012 starting at The Ritz-Carlton Toronto. The show has improved every year and the swag just keeps getting better!
The theme this year was "Springtime in Paris" and I couldn't miss it since Paris holds a special place in my heart! The show started at 9am and by the time I arrived at 9:30am the line-up to get in was already long! I was in so many lines during the day – line up to register, coat check, swag, café, and soda bar – but well worth it! I'm sure many brides, Mother of the Brides, Maid of Honours/Bridesmaids/Friends/Planners/wedding industry colleagues would agree that to start the bridal season off right; the Wedluxe Show is a must see and sets the bar high! The entrance was adorned with flowers and chandeliers on the ceiling and beautifully created by 5th Element Events.
The Wedluxe Pavilion housed Le Rève Gift Boutique, Le Grand Jardin, Oh La La OPI Nail Bar, and the Marché aux Fleurs presented by Jackie O Flowers. Le Grand Jardin was lined with wedding gowns by some of the best designers: Vera Wang, Christos, Kenneth Pool, Lazaro (available at Dina Alonzi Bridal), Catherine Langlois, and Modern Trousseau. Throughout the show beautiful wedding gowns were modeled and displayed by Valencienne, Pearl Bridal House, and Ines di Santo.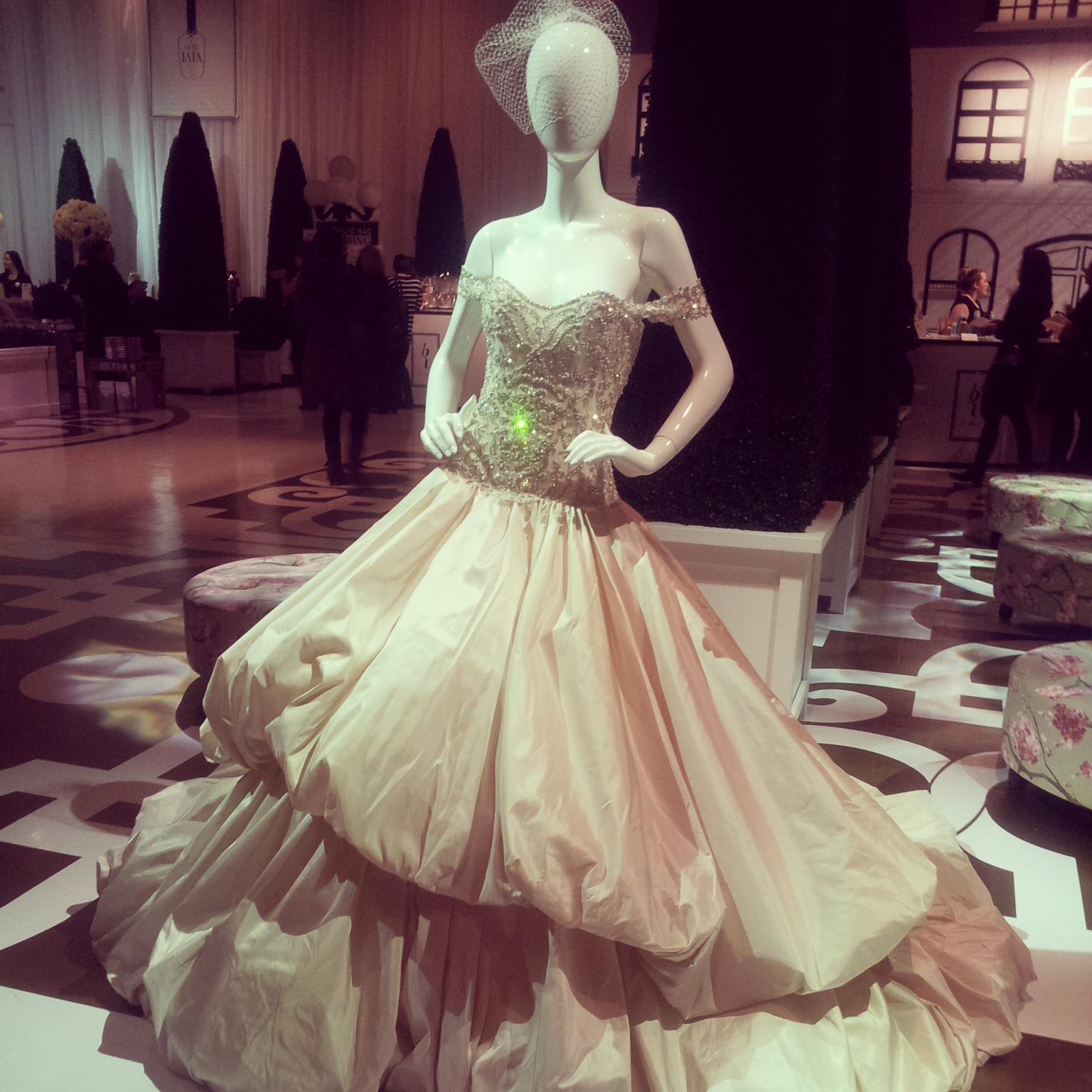 Le Rève Gift Boutique had so many goodies to choose from! I ended up with lip gloss from Beaute, stationery from Anista Designs, a USB from Phototerra, VERA WANG Lovestruck Perfumes, and William Ashley tea cups to name a few.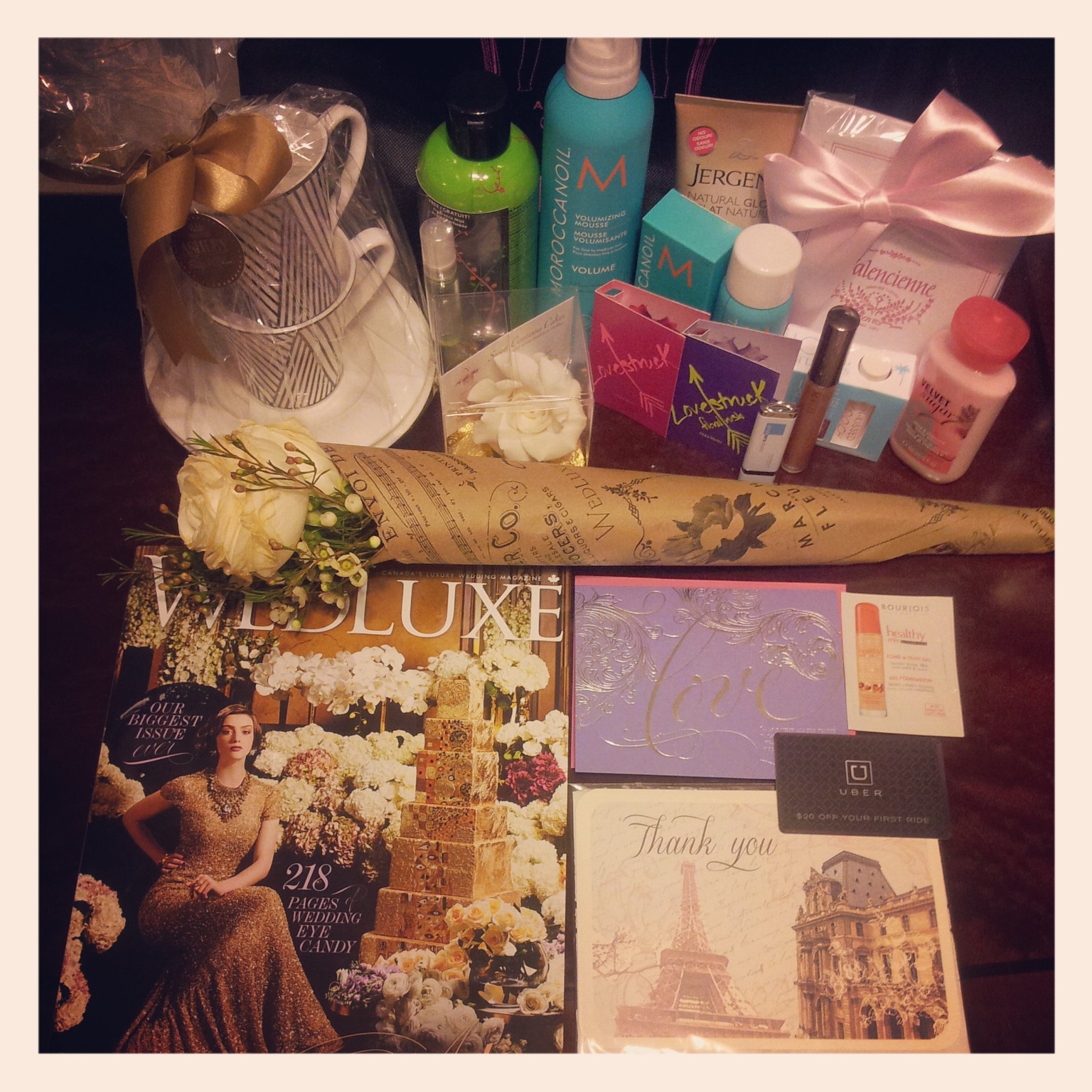 Each guest picked their own bouquet at the Marché aux Fleurs and these beautiful blossoms just brightened up your day in the drab-wet-snowy weather of Toronto.
Next up, the La Vie en Rose Café presented by the Fairmont Royal York Hotel and Forget Me Not Flowers Oakville. In the center of it all was a stunning macaron Eiffel Tower created by Fairmont RYH!! Each guest was able to sample sweet and savoury items beautifully displayed in plexiglass along with a choice of tea or coffee.
After two hours waiting in lines for the Pavilion and Café, we finally got to enjoy the show! The show had over 120+ exhibitors ranging from bridal gowns, accessories & jewelry, invitations, transportation, entertainment, artisan bakers, floral and décor, photography, and more! It was a lot to take in and can be overwhelming for the newly engaged, but a fun experience nonetheless!
We loved the San Remo booth that incorporated Pantone's Colour of the Year: Radiant Orchid.
PALETTERA's hand drawn sketch of their office is stunning!
The artisan bakers at Fine Cakes by Zehra really outdid themselves! These cakes are works of art!
Overall, the Wedluxe Show provides inspiration for your dream wedding. You may or may not have the budget to have it all, but you can definitely have a few items that will make your dream wedding a reality – whether it's the dress, stationery, floral/décor, photographer, videography, entertainment, or a showstopper wedding cake! Happy wedding season!