So it begins.
Immediately after getting engaged in Paris and our return to Toronto, my hunt began. I spent the better part of January of this year searching EVERY possible wedding venue in Toronto and surrounding areas. I also attended numerous bridal shows and open houses to seek the perfect place to get married. Not only am I a wedding planner and trying to plan my own wedding… but now I have to look at it from BRIDE'S EYE VIEW – if you will. Seeing venues from a planner's eye is so much more different. Looking at all the wedding packages, bar packages, custom menus, terms & conditions, policies, applicable historical landmark fees, and the list goes on, and on, and on. It's not easy to find the perfect venue – trust me. Oh, don't forget the 13% HST (thank you, Ontario) and 15-20% gratuities on top of your venue fees (oh yeah, the gratuities are taxable too! FYI!).
Timeline
December 2012 – engaged
February 2013 – first venue site visits
Deadline to find venue – March 2013
Wedding Date – March 2014
I'm a meticulous person and details matter (that is also probably why I'm a planner). What my fiance & I mainly want in our venue:
Venue Criteria
Toronto location – not GTA
High ceilings
Gorgeous lighting/chandeliers
Modern, yet classic and elegant
Fully accessible
Large enough space to hold 100 guests, plus a dance floor
On-site ceremony + cocktails + reception dinner & dancing *saving our guests time, gas, money, and a headache
Exceptional food and service
Must fit within our budget
Thus far, we have seen 5 venues, and have 3 more to go — because after this, I'm so done. Scheduling site vists while juggling work and school can give anyone the urge to give up, pack up, and elope in Vegas. We've also considered destination weddings, eloping, and a Justice of the Peace signing. We have yet to find the one venue that fits 80-90% of our criteria. We love bits and pieces of each place so far, like the Mezzanine and chandeliers at the Park Hyatt Toronto, pictured below.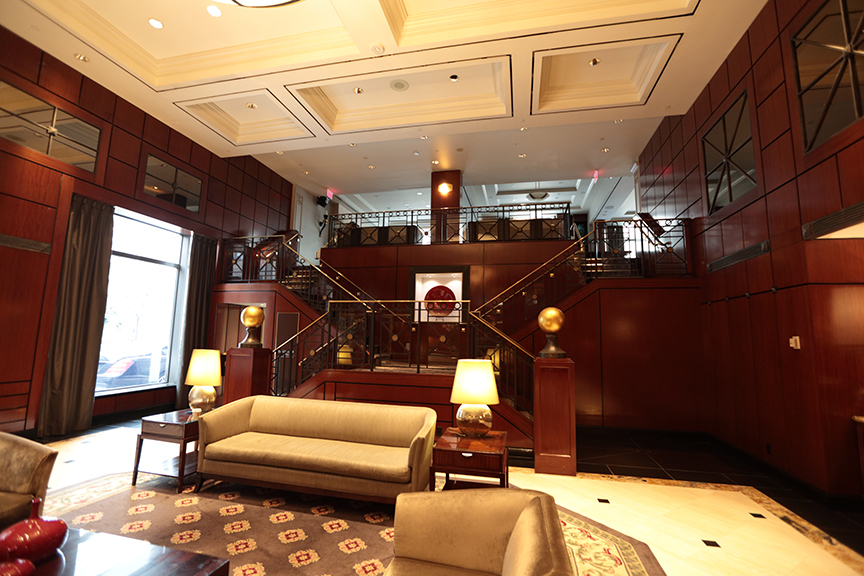 After we find the perfect venue, then we have to find the perfect photographer, the perfect "Say Yes to the Dress" dress, perfect shoes & accessories, and the list will go on, and on, and on. Come back and make sure to follow up! Search for tagline: M&C wedding.